At Glory Decor, your satisfaction and comfort is out main concern, this is why we strive hard to introduce you the latest decorating materials and bring the 'quality' to your home. Simply because your home deserves the best.
Your satisfaction is our glory.
With passion, we provide reliable services and by years of experience, there is very little we do not know or cannot do.

OEKO-TEX® Fabric
an independent test and certification system for all types of textiles tested for harmful substances – from threads and fabrics to the ready-to-use items that you can find here in Glory Decor.

OLEDUO
a dynamic, innovative R&D and system integration multinational corporation with strong focus on motorized automation products and their advanced controls.
AMANO
being one of the leading manufacturers and strategic distributors of roller blinds in the country, Amano didn't come a long way.
Inherently Fire Retardant Fabric
certifies that the fabric is inherently and permanently flame retardant.
FR-One, one standard that meets all, creating one worldwide standard.

ACACIA
Fine Fabrics.
Everyone's home is a palace, so flaunt it.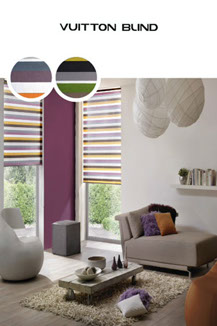 VUITTON BLIND
will be capable to provide you with a system or fabric that changes your view to your window needs whether you are an architect, developer, interior designer or renovating your home.
UV Pro is Green Conscious
Engineered to last and designed to look beautiful.
UV Pro fabrics are engineered to last years without losing their unique properties, like colourfastness, durability, water and stain repellency.
PASAYA
has continuously improved its standards in all aspects of production, education creativity and innovation. PASAYA products are inspired by Eastern philosophy and enabled by Western innovation.

RASCH
As a family-run company Rasch can look back over a long tradition of creating and producing wallpapers having made an international name and established itself as a brand.
KOMAR
Wall design at its highest standard.
Komar has made its name known far outside its home country of Germany with its high quality photomural and non-woven photomurals.
MARBURG
That's Marburg.
Marburg has been making wallpaper and wall coverings for over 160 years.
Marburg products are exclusively "Made in Germany".